The Thaddeus Kosciuszko Monument
in Kosciuszko Park
Milwaukee, Wisconsin
A South Side Icon
The Thaddeus Kosciuszko Monument is located in Kosciuszko Park, in historic "Lincoln Village", on Milwaukee's South Side. It is proudly poised facing south on Lincoln Avenue at 9th Place. Milwaukee's Polish community presented the Kosciuszko Monument to the City of Milwaukee in 1905. Sixty thousand people attended the dedication. The statue originally stood at the north end of Kosciuszko Park, near Becher Street, but was moved to its present location in 1951. Over the years, countless parades, patriotic celebrations, political meetings, and other important events have been held in the shadow of the Kosciuszko Monument. Those who grew up in the neighborhood refer to the monument, with affection, as the "Kozy statue" and cherish many fond memories associated with it.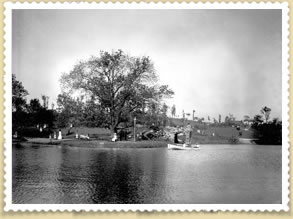 photos courtesy of:
Collection: Kwasniewski, Roman B.J., 1886 – 1980
Repository: Archives, UW - Milwaukee Libraries
Rights: The Board of Regents of the UW System
Publisher: UW - Milwaukee Libraries
Dedication of the Monument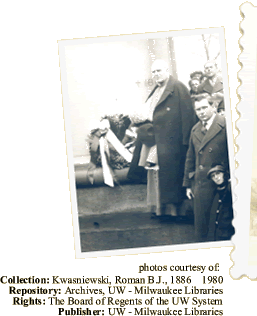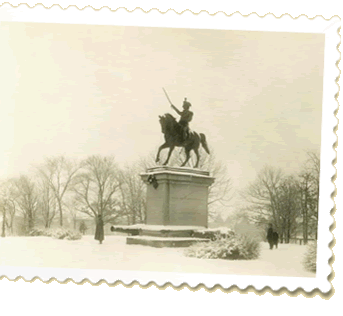 The General Thaddeus Kosciuszko monument was dedicated on June 18th, 1905. The Milwaukee Sentinal wrote that 60,000 people attended the dedication, and that all of the South Side was alive with excitement. It was dedicated by Archbishop Francesco A. Symon (visiting from Poland) and accepted by the Mayor of Milwaukee, David Rose as a gift to the city.